Tilted Axes: Music for Mobile Electric Guitars to premiere "Touchy Subjects," video and music for the Summer Solstice June 20-21
6/20 audio link launches at 5:43 pm EDT … https://bit.ly/30QWpLV
6/21 video link launches at 8:00 pm EDT … https://vimeo.com/426311201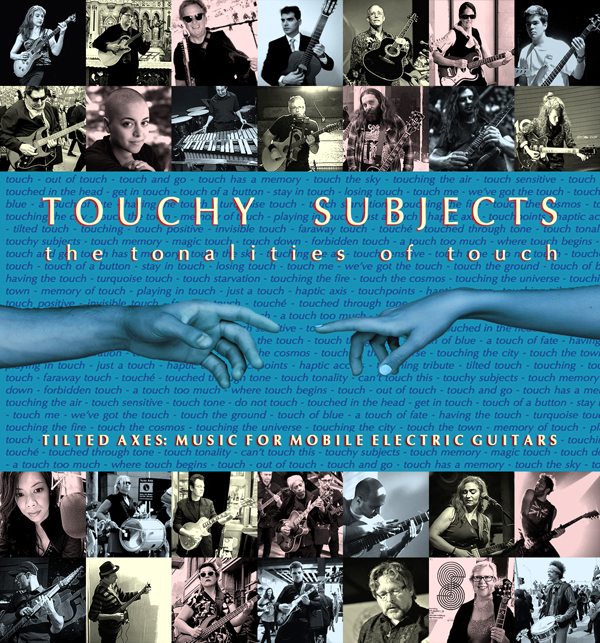 On June 20-21, 2020, Tilted Axes: Music for Mobile Electric Guitars will release new music (June 20) and an accompanying video (June 21) in observance of the Summer Solstice. The new work, entitled "Touchy Subjects", is a musical meditation on the real phenomenon of "touch starvation" that many are experiencing since the onset of social distancing. "Touchy Subjects" will explore the tonalities of touch, or the ways in which we physically connect to the world we inhabit have changed.
An especially created Tilted Axes "Touchy Subjects" trailer will be aired Friday, June 19, on WABC-TV New York between 4-5pm EDT in a segment highlighting Make Music New York special projects. The segment will be shown throughout the weekend and in more than 6000 NYC taxicabs as part of WABC-TV's Taxi TV in advance of our solstice premieres.
More iNFO: https://bit.ly/3cXPWRM
Tilted Axes is an award-winning project of post-rock composer and performer Patrick Grant, which brings especially composed electric guitar music into public spaces. The group consists of 15-18 electric guitarists playing instrumental music through wearable mini-amps, accompanied by percussionists and other performers. Stylistically the ensemble covers a number of genres, centering on the nexus where rock, classical, and world music meet. Tilted Axes performs in public squares, museums, and festivals of all kinds.
Please follow Tilted Axes on Instagram,  Facebook, or go to its web site: http://www.tiltedaxes.com. The work is being presented in conjunction with Make Music New York and Make Music Day.
Tilted Axes "Touchy Subjects" and is made possible in part through the New York University Tisch School of the Arts Adjunct Professional Development Fund and through the generous donations of people like you. Won't you consider becoming a part of our team and help us continue to provide free art and performance to the public? Go to our fiscal sponsor Fractured Atlas to find out more: https://fundraising.fracturedatlas.org/tilted-axes-music-for-mobile-electric-guitars