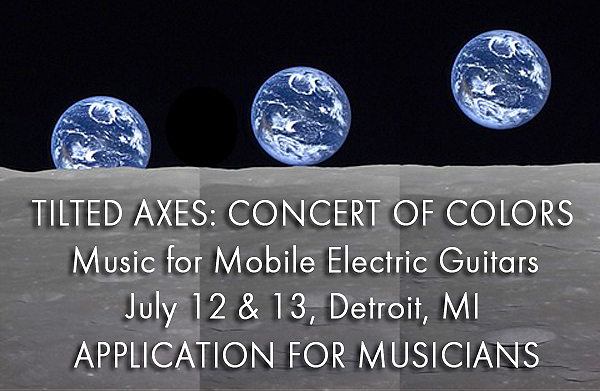 The application for Tilted Axes: Concert of Colors, July 12-13 in Detroit, MI is open.
The above application is for electric guitarists, electric bassists, percussionists and support crew to be a part of Tilted Axes: Music for Mobile Electric Guitars' appearances at Metro Detroit's 27th Annual Concert of Colors on July 12 and July 13.
On July 12th Tilted Axes performance highlight will be a musical procession around the cultural campus of The Michigan Science Center, The Charles H Wright Museum of African American History, The Detroit Institute of the Arts, and the Detroit Historical Society. The procession will take place approximately between 5:00-8:00pm
On July 13th Tilted Axes performance highlight will be two musical performances of "MOONWALK," new music created for the 50th anniversary of the first crewed lunar landing along with other Tilted Axes repertoire. The performances will take place at 1:00pm and 3:00pm and encompass various points inside the museum with a visit to the planetarium as its centerpiece.
Participants are not required to be a part of the TILTED AXES: SPACE CAMP June 8-9 FREE workshops, but if you are new to the ensemble or wish to re-enforce your knowledge of the core repertoire and tilted techniques, it is not a bad to be a part of it if you are able. To apply, please go to this Google Form here: https://forms.gle/WaaFwJZthGFyqTFK7
Meanwhile, in New York City: Tilted Axes NYC has two peformances coming up in June:
Tilted Axes: Make Music Harlem (June 21) – This event is part of a block party on W 119 Street that's being produced by Milica Paranosic's organization Paracademia LLC. The event page is HERE. At 5:00pm we'll be performing a procession to The Apollo Theater and back and will take the stage for a short set at 6:30pm.
Tilted Axes: Rubulad (June 29) – Rubulad is a community of artists, performers and entertainers based in Brooklyn, NY located at 389 Melrose Street. We begin ca. 9:00pm and will perform (perhaps) a foray into the nearby neighborhood, a procession through their garden, and a performance on and around their stage. Many other acts will be a part. It will be Pride Weekend all around, so expect a joyful scene.
For more details, maps, and information on how you can be a part of any these events, please go to our web page: http://tiltedaxes.com/tiltedaxes.html
All of our performances are given free to the public. These events would not be possible without our numerous co-producers and project donors. Won't you consider making a tax deductible gift through our sponsor Fractured Atlas? Go to:
https://fundraising.fracturedatlas.org/tilted-axes-music-for-mobile-electric-guitars
Tilted Axes thanks the organizations, collaborators, and sponsors that hold everything together: Vox Amps, KORG USA, Midtown Detroit, Alchemical Studios NYC, Brooklyn Battery Works, DIME (Detroit Institute of Music Education), The Concert of Colors, The Michigan Science Center, Paracademia Inc. and Peppergreen Media.
Thank you all,
Patrick Grant & Tilted Axes: Music for Mobile Electric Guitars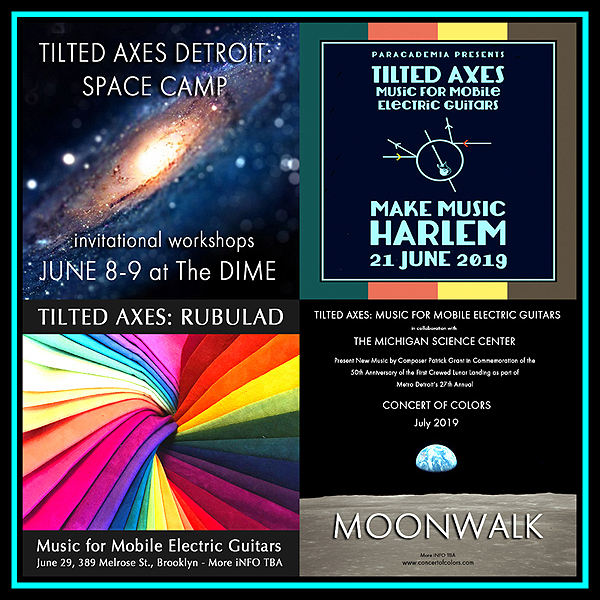 Meet the performers and crew of Tilted Axes NYC Summer 2019 
click link > http://tiltedaxes.com/NYCSummer2019_artists.html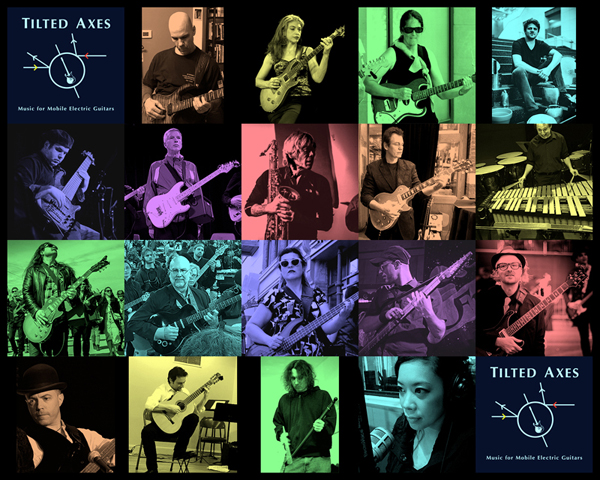 Left to right, top to bottom: Gene Ardor, Angela Babin, Aileen Bunch, Jon Clancy, Dan Cooper, David Demnitz, David Tamura, Patrick Grant, John Ferrari, John Halo, John Lovaas, Sarah Metivier Schadt, Jeremy Nesse, Chad Ossman, Kevin Pfieffer, Sean Satin, Harry Scott, Jocelyn Gonzales